As a former student of New York City (NYC) public schools (elementary, middle and high school), I fondly recall many of my teachers and the wonderful lifelong lessons they taught me. I was fortunate to have loving teachers who expressed genuine concern for their students. It is their examples of love and the commitment they made to help students become successful, contributing members of society that motivated me to come back to NYC public schools as an adult. Since May 2016, it has been my honor to serve as the principal, lead learner, of PS 6X – The West Farms School in the South Bronx.
I am passionate about providing successful school experiences for all students through a strong focus on building coherent instructional and social-emotional support, leading to increased academic achievement. As a result of my work with students with disabilities and my advocacy of their fair and appropriate placement into school programs, I adopted a vision for school improvement largely based on the belief that all children have the ability to achieve educational success if provided with the appropriate supports in a collaborative, nurturing setting. This setting encompasses all members of the school community working together including families, educators and community stakeholders.
Through my leadership each day, I endeavor to provide a stable foundation of educational excellence for all students. My efforts expand to include parents and families in school decision making as well as the constant assessment of our teachers' instructional practices. I am driven to develop and maintain an educational environment of total excellence for all stakeholders. Each day, I look forward to serving the students of New York City with the same commitment and love shown to me as a student in this same school system many years ago. My desire is for all of my students to graduate from the NYC Department of Education with a smile on their face and lifelong memories of great educational experiences in their hearts, understanding that it took the collaborative efforts of all members of our school community to make their education journeys worth every minute.
I strongly believe that "it takes a village" to successfully educate our students and that until and unless we approach our students and families from various perspectives, with varying action plans to assist, we cannot be successful in guiding them to become leaders of the world. Our students need us and we are committed to their success.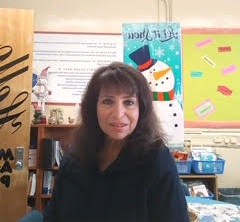 Susan K. Aker, Asst. Principal
I have served as an Assistant Principal at P.S. 6X The West Farms School since 2006. At P.S. 6X, we strive for every student to receive a solid foundation in their core subjects so that they can 'love learning' and 'inspire their world' in the present and in the future. We want all our students to feel valued and special daily from the moment they walk through the school yard into our building.
victor garcia,
asst. principal
I started with the DOE as a Special Education teacher. During that time my desire to impact young students lives, ignited into my life's passion. Since being a Special Education teacher, I was also a Dean, Literacy Coach and now Assistant Principal; inspiring the lives of the students in PS 6X West Farms.
carmen valle, parent coordinator
I began my journey here at PS6X, 17 years ago as a parent volunteer in the Parents Association and then became the Parent Coordinator. As your Parent Coordinator it is my job to be the liaison between the parents and the school as we work together to maintain a positive learning environment for our students. I look forward to coming to work everyday to what I call my second home. At PS6X we are a family where students are their best, love learning and inspire the world!